Vietnam Landmaps (for Garmin GPS receiver)
Important note: As many things have changed and are still changing in Vietnam this map product can be considered as a legacy product. However, this map is still actual and best in accuracy in the covered high-detail-areas for outdoor actions. This map will not be developed further due to the lack of financial feasability. This map product is sold out as "as is" in not locked version.
The Vietnam Landmaps is the first Garmin-compatible topographic map for Vietnam offering highest accuracy. This map is still the best map available on the market. This map can be used for any purpose, not only for street use. These maps are ideal for any kind of landborne, waterborne or even airborne activities.
Even the Vietnam Landmaps does not cover whole Vietnam, this map offer the best accuracy available, which means an average accuracy of +/- 3 meter. Especially when off the road you will appreciate the plus in accuracy to find your way.
The Vietnam Landmaps take advantage of the new concept of GPS mapping. The map offers contourlines which can be enabled and disabled and a separated POI database with additional information. All newer GPS receiver from Garmin support this concept (in case you dont know feel free to contact us).
Why using Wildgoose Vietnam Landmaps:
Map offers highest possible accuracy (much better than any OSM, Google or other map)
Verified content in high accuracy areas
Most versatile map for land, water and even air activities
Map contains many different kinds of objects, not only streetmap-objects
Fully routable (even on jungle trails)
Points-of-Interest contain additional information due to separated database
Contourlines up to 20m can be switched on or off
Map design similar to paper maps
Description:
Digital map of Vietnam with roads and streets, land coverage and water surfaces, cities and non-urban areas. The map is routable and contains a searchable global map index.

The map contains major and minor roads, railroads, waterlines and shorelines, land coverage, summits, lakes and rivers. In city areas detailled map is provided for Hanoi, Haiphong, Ho Chi Minh City, Da Nang, Nha Trang, Hoi An, Da Lat, Phan Rang, Phan Thiet and other cities.

The map contains around 75.000 km of roads, streets and ways and more than 15.000 searchable geographic points. In selected cities the streetnames are searchable. The additional POI database consists of more than 2.800 points divided into categories and subcategories. Points of this database offer additional information if available.

Contour line model of Vietnam containing 20m, 100m and 200m contour lines. The contourlines can be switched on or off for better customization of the map page.

This map is ideal for any kind of outdoor activities and citywalks as well. Accuracy and totality depends on area and is from very accurate to usable. This map will be improved and updated continuously and is the best available map for Vietnam.
Available Format:
ZIP-Archive which contains the map in GMAP format. This map will be included to the MapSource or BaseCamp installation.
Coverage map:
A coverage map of the current version can be seen -> here <- .
Update history:
The update history can be seen -> here <-
Screenshots
Screenshots (Garmin GPSmap 60CSx - with POI overlay):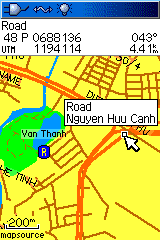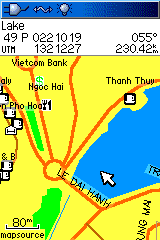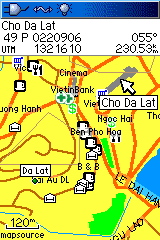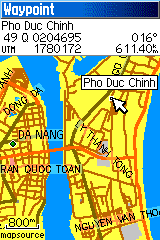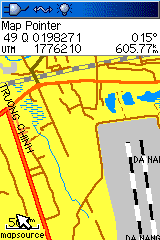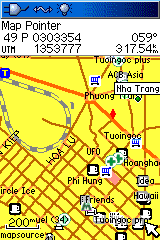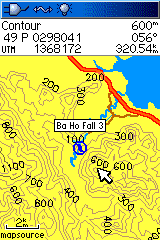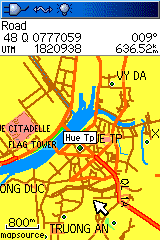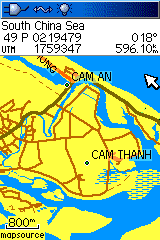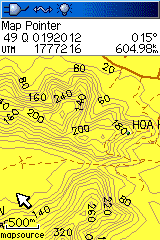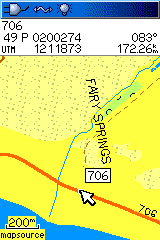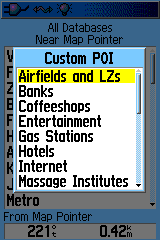 Screenshots of Garmin MapSource (click image to enlarge).
Please note that the POIs cannot be shown (yet) in MapSource application and MapSource is not able to show the map with the overlay:











Screenshots of Garmin Mobile PC (click image to enlarge):




Screenshots of Mobile XT running on Palm (click image to enlarge):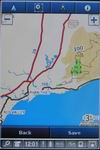 Please note that on the screenshots the Point of Interests are not visible. They will be loaded directly to the GPS receiver.
---