Vietnam Coordinate Conversion
In land administration and mapping Vietnam is using its own coordinate system to define a point on the surface called VN-2000 reference system. This coordinate system is used in Vietnam's latest map products and in the land register plans (cadaster) of the vietnamese authorities.
For using this geodata on a GPS system or in Google Earth we offer different kind of services and products:
Convert vietnamese coordinates in VN-2000 reference system to any other coordinate system
Produce overlay of vietnamese coordinates or land coverage for Google Earth
Produce a digital map for Garmin GPS receiver of your land property (coordinates in vietnamese system)
Conversation of vietnamese coordinates
We convert any of your coordinates in vietnamese system to any other coordinate system of your choice. In this way you can use your geodata on other maps, GPS systems or digital maps.
Send us your coordinates in text or a scan of your land register excerpt or map for a free offer without any obligation.
Overlay for Google Earth
To show your land data on Google Earth we produce overlays of your data. Send us the coordinates of your land data or an excerpt of the cadaster map and we produce an overlay in KML format which can be used in Google Earth.
Here is a sample of Google Earth overlay (click to enlarge):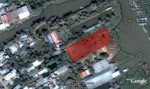 Overlay as a Garmin map
Using your land data on a Garmin GPS receiver is also possible. According to your coordinates or cadaster plans we produce a Garmin map which can be seen in Garmin MapSource and can be loaded on a Garmin GPS receiver. This map can be in a transparent or non-transparent mode.
Please ask for any other service which is not listed above.
Prices for this service begins at 20 USD, please email us for further information.
---